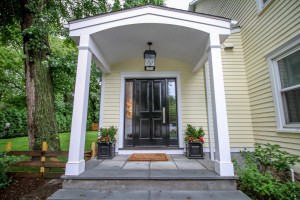 Energy efficient building materials and practices are more prevalent today than they ever were in the past. Homeowners understand that investing in energy efficient retrofits or new construction is one of the best ways to save money and help the environment. If you live in an old home you're likely familiar with high energy bills and drafty windows and doors. As professional architects we like to make energy smart decisions by providing homeowners with a structure that has an efficient building envelope.
One of the benefits to building a new home is that you can utilize a whole-home approach to improving energy efficiency. Your building envelope can be created from the ground up, and you can implement all of the best techniques right from the get go. Working with an architect and builder who has experience with energy efficient home design and construction is a great way to ensure that your planning is effective and covers all the bases. There are plenty of variables to consider, and working with a professional can keep you on track.
Many people assume that building a new home that is energy efficient would be too expensive. While the initial costs may be slightly higher than traditional home construction costs, the overall savings over time can significantly offset those expenses. In some cases, you may even be able to get special financing to cover the costs of building a home with energy efficient products and practices.
As you plan for your home building project, consider all of the ways that you can incorporate energy efficient building options. You may want to consider advanced house framing in order to reduce lumber waste. Cool roofs may be another good idea, since they can reflect sunlight and keep your home cooler without the need for as much air conditioning power.
No matter what small steps you take towards building an energy efficient home, you can feel good about knowing that you are helping the environment and your wallet.
At Stephanie Fox Architects we make it a point to provide you with the custom designs that you're looking for. Whether you're building a new home, an addition or a detached garage we know how to create and implement an energy efficient design that fits your style and vision.  For a design consultation call us or click here for a quote.