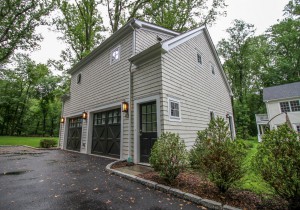 With proper planning, converting garage space can be a good idea for those looking to add a little more square footage to a house. There are many factors to weigh before undertaking a garage remodel. Homeowners should consider cost, purpose and trade offs during the development stages of such a project.
A Separate Space for Guests
One of the most popular reasons people look to add space to an existing home is to create a guest house or in-law suite. Having house guests, though enjoyable, can be disruptive to a family's schedule. A separate space for guests allows everyone to feel more comfortable during the visit. For those with frequent company, giving up some, or the entire garage may feel like less of an interruption than regularly giving up bedrooms already in use. Individuals who are caring for an aging parent or other family member may find it well worth the cost to have separate quarters in close proximity to the main house.
Adding a bathroom to complete the guest quarters should be a consideration all its own. Bathroom additions often significantly increase the cost of remodels and additions. More subcontractors are involved in the completion and serious plumbing undertakings may be required, depending upon the site and location of current water and sewer lines. Consulting with architects and builders like us here at Stephanie Fox Architect, who have experience designing successful garage remodel projects, is a must when reflecting on whether or not to add a bathroom as part of the undertaking.
Rethink Space to Maximize the Remodel
Homeowners must consider the current purposes and uses of the garage. Is it used mainly for storage that could be located in another part of the residence? Reorganizing a few closets or a basement room may free up ample storage space for items currently housed in the garage. What about parking? If the garage is large enough, the project may only require part of the space, still leaving room for indoor parking.
A successful garage remodel project will consider not only cost, but purpose. A professional consultation can help homeowners make important decisions about space and functionality. The success of any amendments depends greatly on planning in advance.
At Stephanie Fox Architect, we can provide design renderings as well as the implementation and installation of a new garage apartment. For more information give us a call or click here for a free consultation.