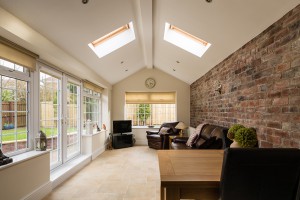 Sunrooms are a popular addition for those that like to experience sunlight from the indoors. Not only does this multi-functional room let you admire the day from sunrise to sunset from the comfort of your home, but sunrooms are one of the best ways to enjoy the sun while keeping the bugs and allergens out.
However before you consult with us regarding your sunroom, you must first decide what type of sunroom you'd like constructed so that we can help you determine the best place to build and create a layout that follows the local building codes and sticks within your budget.
There are three different types of sunroom structures; the three season sunroom, four season sunroom, and the solarium. A three season sunroom, provides you with a space that is ideal for the spring, summer, and fall. It is generally unusable during the winter because the structure is not insulated and does not have a built in central air system. This also means that during the warmer months the structure will not provide air conditioning. However, you can easily solve this issue by using portable heaters during colder months, and portable fans and air conditioners during the hotter weather.
A four season sunroom can be used all year round. Unlike a three season sunroom, this structure is properly insulated and has a built in central air system for heating and cooling. Whether you use this as an office room or a kids playroom, a four season sunroom is as functional as any other room in your house, allowing you to transform it into any type of living space.
A solarium is a room in which it's walls and ceiling are all constructed of glass. This modern style room is also referred to as a conservatory, as it gives you a view of the outdoors from almost every angle. Like a three season sunroom, the structure has no insulation or a built in central air system. However, insulated glass and seals allow you to have an enclosed space that can improve the room's heating and cooling.
Like all home expansions and additions, it's best to conduct some research on the building permits required and building codes that must be followed before work begins. However, one of the benefits of working with Stephanie Fox Architects is that we can secure all necessary building permits for you prior to building.
At Stephanie Fox Architect we provide several consultations and designs before the building process begins to ensure that you're getting the addition of your dreams and nothing less. Give us a call or click here for a quote.