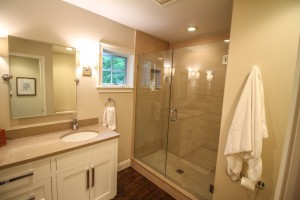 Envisioning a luxurious, spacious bathroom is simple, but when you have a small space to work with bathroom remodeling requires a little more creativity to design that luxurious spa-like space within a smaller footprint. When taking on a bathroom renovation or a bathroom remodel, you'll need to keep three simple principles in mind: space, functionality, and impact.
Obviously space constraints play a large part in any small bathroom design. Before you set off on a bathroom renovation, take stock of the space and layout you have to work with. Selecting sinks, cabinets, and toilets for a small room can be difficult because everything looks smaller in a giant store room. To avoid any mismatches, large pieces should be measured to make sure they'll fit in your space before they're purchased.
Functional design in a small bathroom remodel is also critical. When working with a limited area, you'll need to consider how to maximize storage. Consider recessed shelving and built-in storage that makes use of the dead space within existing walls. Opt for open shelving that offers easy access without closing in the space. Also, look for smaller toilets and pedestal sinks that can make the room appear more spacious.
Finally, consider impact when you tackle your bathroom remodel. Just because the space is small doesn't mean it should be boring. For a small bathroom remodel, it's all in the details. Choosing a the right paint color can make a big impact in the tiny space.
Small bathroom design can create a room that is just as beautiful as a large one. By weighing the available space, creating a functional design, and considering the impact of your design choices, your bathroom renovation could become the envy of all of your friends.

If you're ready to get started on your bathroom remodel don't hesitate to call us. As a professional architect, we can help to transform your small space into a luxurious one that meets your design needs. Call us or get a quote.